Jermichael Finley Looks to Make an Impact in '06 - THSCA All-Star Highlights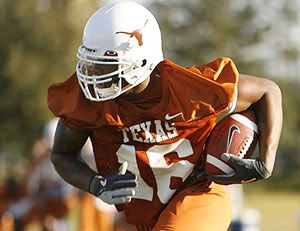 In 2005, the Longhorns were faced with replacing tight end Bo Scaife who finished his career at Texas ranked second among tight ends for receptions and third all-time in receiving yards. But David Thomas did just fine setting an all-time Longhorn record for TEs with 50 receptions in a season and finished as the all-time leader in receptions, receiving yards and touchdowns.
Senior TE Neal Tweedie will likely top the depth chart this year, but with four years of eligibility remaining look for Jermichael Finley to get plenty of playing time and to emerge as a playmaker for his team.
At Diboll (TX) High School Finley was a four year starter at TE but also played wide receiver, defensive end, safety, punter and kicker. He was named first team all-district, and first team 3A all-state by the Texas Sports Writes Association.
Leading up to the 2006 season, Finley has impressed coaches, teammates and casual onlookers with his sure hands and great leaping ability. He's
put on thirty pounds since high school
and at 6'5" and 240 pounds, he has the size, speed and athletic ability to become the Longhorn's next great tight end.
These highlights from the 2005 THSCA All-Star Game should serve as a glimpse of what's to come.
UPDATE 8/28/06:
In related news...