Texas Longhorns Football 2006 Game 1 Highlights - North Texas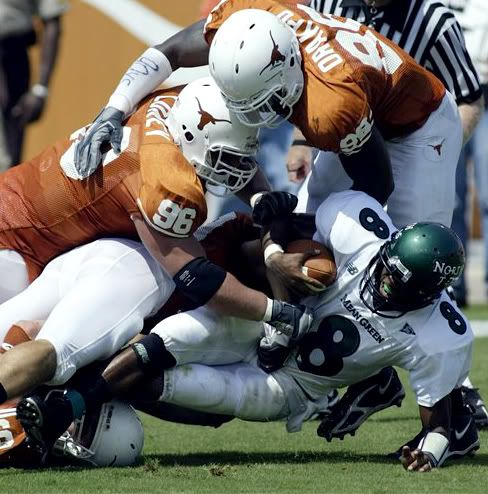 Nobody thought the Mean Green of North Texas could actually beat the defending champion Texas Longhorns, and they were right. If you gave UNT a touchdown for every first down they made, Texas still covers the spread.
Fans were happy to see Colt McCoy turn in a solid debut but really, it was the defense that dazzled.
UNT was held to just 8 yards rushing and only 95 total yards. 95. That's not even one whole football field.
Six Longhorn players each finished with more rushing yards than the entire North Texas team.
Colt McCoy
seemed poised
from the beginning with a 60-yard TD pass to Limas Sweed on just his third career snap. He completed 12 of 19 passes for 178 yards and three touchdowns while rushing for 38 yards and another touchdown.
Maybe everything will be okay after all.
North Texas - 7
Texas - 56